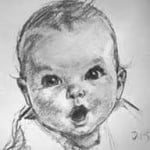 Interested in learning more about the Gerber Medicare Supplement? Rates in New Jersey as low as $141.12 per month for Plan G. Call today to get your Gerber Medicare Supplement rate and learn about this great insurance program.
Want to learn a little more before you call about the Gerber Medicare Supplement?
The Gerber Life Insurance Company, was formed in 1967 as a subsidiary of the Gerber Products Company in Fremont, Michigan and is headquartered in White Plains, New York. It is one of the top direct-response marketing insurance companies and a leading producer of juvenile life insurance.
Gerber Life Insurance Company has more than $33 billion of life insurance in force.
The Gerber Medicare Supplement insurance is underwritten through Mutual of Omaha, another trusted name in the business.
Some frequently asked question on the Gerber Medicare Supplement
What does the Gerber Medicare Supplement plan do? The medicare supplement plan is designed to fill in any or all gaps that are left by original Medicare Parts A and B.
Will my doctor accept it? Yes, the Gerber Medicare Supplement is accepted anywhere that original Medicare is accepted.
Will the Gerber Medicare Supplement work while I travel overseas? That depends. Some Gerber Medicare Supplement policies will provide limited coverage for international emergencies. Ask me for specifics.
What about as I travel throughout the US? Will my Gerber Medicare Supplement still work? Yes, this plan will work in any state and at any doctor that accepts Medicare.
How much does the Gerber Medicare Supplement cost? That depends on your age, sex, location and possibly health. See the attached chart for a few of the gerber medicare supplement rates. Call or email me for the specific quote for you.
What will happen if I decide to call or email you about a quote? I will reply promptly with the information you requested and your information will be shared with no one. If you decide that this is not the program for you, I will have no hard feelings and will thank you for the opportunity.
If the Gerber Medicare Supplement sounds good to you, please contact Mike Sheeran today for your free Gerber Medicare Supplement quote!