Health Republic has been operating in NJ now for almost two years and I still find it to be not well understood by the public and even insurance brokers. My goal with this article is get you the important information and not the fluff you usually find online when you are trying to get the information you need to make a buying decision.
Don't be like this guy! If you need help with your Health Republic plan or any plan for that matter, please give me a call.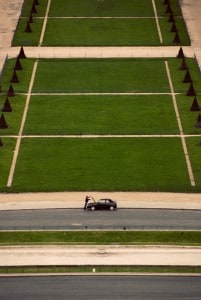 If you want all the background of the company, please go here first. Health Republic
You may also want to download their summary sheets here.
Health Republic Benefit Highlights Flyer
What I like about HealthRepublic
Rates!!! For individuals and groups, Health Republic is very well priced and lately I'm finding them to be the best price especially on the lower Silver and Bronze plans. Specifically their Spotlight Silver Plan
Network: Health Republic uses the Qualcare network in NJ which isn't probably the largest when compared to some of the others but it is still very large.  (Key tip, when you call your doctors to check if they accept Health Republic, you need to specifically ask if they accept Qualcare) You can search their network here by clicking on the image below. Their marketing focuses on adding out of state access to NYC with the Multiplan Health Directions network but it is actually nationwide. Great benefit!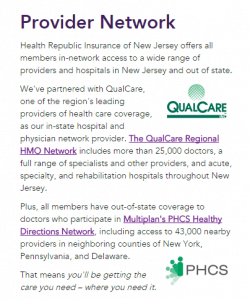 Teledoc – This comes with your enrollment into any of the Health Republic plans. You have round the clock access to doctors over the phone and its free!! So for those times when you don't need the emergency room and still aren't sure even about the using the urgent care, you can call Teledoc.
Plan Selection: Ok for me this is a plus and a minus. They have alot of plan options in the silver range which gives you a lot of options but in my opinion there might be too many. When I help people with quotes, there might be five silver plans within Health Republics suite of products within $5-$10 of each other. So yes, you have options and can tweak the plan a little but it can be confusing when trying to figure out what is different between them. The big things to focus on are the rx copays, hospital inpatient, physician copays..
Free labs at Quest- I know their summary sheets may say otherwise, but lab work done at Quest Diagnostics should be covered 100%. (you may not use Labcorp, as they are out of network)
What I don't like about HealthRepublic
I don't like to nitpick because I do like this company a lot but I will share with some things I would like changed.
Plan selections – I think there are too many silver plans with premiums too close to one another. They need to narrow this to maybe 2 plans.
Branding – they still need to get their message out to everyone in NJ so they becoming a more household name. There is something about having a known brand that makes consumers feel comfortable in purchasing their health insurance. This is why Horizon BCBS gets so much business. They are the name you know.
Network – this was one of my positives but they still need to continue contracting doctors until they are at the same levels as Horizon, Amerihealth and Aetna. Don't think they have zero network just because I'm putting this here. It is good but still can grow a bit.
That's all I have for now, I'm going to be updating this page as often as possible with even more details on the company. If you have questions or would like anything featured please contact me.
You can also check out my video on Health Republics network vs some of the other New Jersey Health Insurance Carriers.
If you need more information on individual health insurance in NJ or individual dental insurance please follow my links.