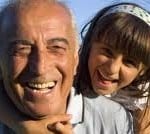 This will be a resource post to New Jersey residents that are shopping for a Medigap Plan in NJ. These plans are also referred to as Medicare Supplement plans in NJ.
If you already know what a Medigap Plan is, feel free to skip ahead to the section on the rates for Medigap Plans in New Jersey
The fastest way to get the information you need is to go ahead and send me a quote request. I usually can respond within the hour or will get to you as soon as I can. Quotes are always free and I'm happy to give you my opinion on all the Medigap plans. 
What is a Medigap policy?
A Medigap policy (also called "Medicare Supplement Insurance") is private health insurance that's designed to supplement Original Medicare. This means it helps pay some of the health care costs ("gaps") that Original Medicare doesn't cover (like copayments, coinsurance, and deductibles). If you have Original Medicare and a Medigap policy, Medicare will pay its share of the Medicare approved amounts for covered health care costs. Then your Medigap policy pays its share. A Medigap policy is different from a Medicare Advantage Plan (like an HMO or PPO) because those plans are ways to get Medicare benefits, while a Medigap policy only supplements your Original Medicare benefits. Note: Medicare doesn't pay any of the costs for you to get a Medigap policy. Every Medigap policy must follow Federal and state laws designed to protect you, and the policy must be clearly identified as "Medicare Supplement Insurance." Medigap insurance companies in most states can only sell you a "standardized" Medigap policy identified by letters A through N. Each standardized Medigap policy must offer the same basic benefits, no matter which insurance company sells it. Cost is usually the only difference between Medigap policies with the same letter sold by different insurance companies.
What do each of the different Medigap Plans in New Jersey Cover?
New Jersey Medigap Coverage Chart
See chart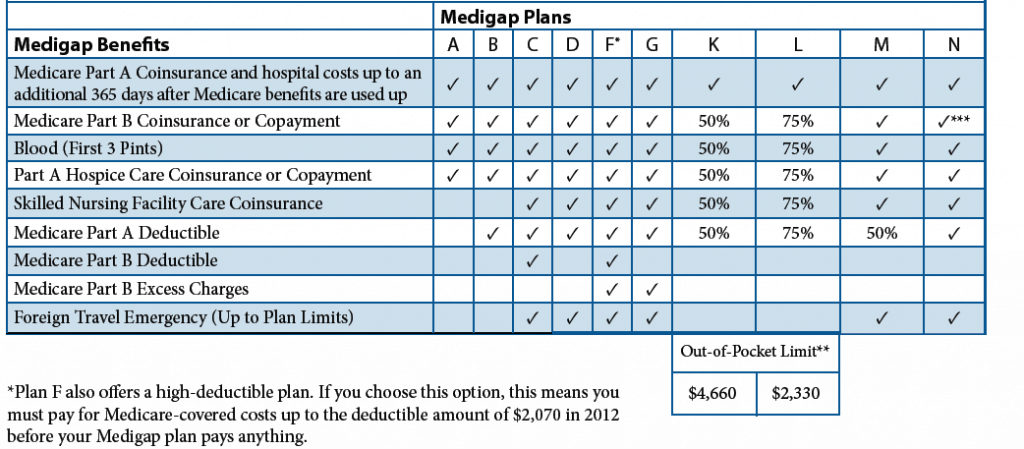 What insurance companies sell Medigap Plans in New Jersey? And how much do the Medigap plans in NJ cost?
***Updated for 2015**
2015 NJ Medigap Plans and Rates
*If older than 65 please contact me for a quote on your medicare supplement
1) NJ Medigap Female Non Tobacco Rates
2)NJ Medigap Female Tobacco Rates
3)NJ Medigap Male Non Tobacco Rates
4)NJ Medigap Male Tobacco Rates
Keep in mind that the tobacco rates are only applied if you are not in a guaranteed issued period. If you are 65 then this is likely the case.
Medigap Plans with Household Discounts
Don't forget to let me know if someone else in the household also has a Medigap plan. Mutual of Omaha offers a 7% discount, Aetna will also 5% discount and there are some others. as well.
Amerihealth Medigap plans were new for this year so I didn't have a chance to work them into the intial post. Please reach out to me for a quote. They are in the top for best prices and are the only company I know of that offer a gym reimbursement and some other great benefits. Amerihealth is a subsidiary of Independence Blue Cross out of Pennsylvania and have been offering great group and individual plans for years.
These are rates from the past.
AARP Medigap Rate –  Medigap Plans A, B, C, F, K, L, N(Please call for rates. Your rate will probably be less than shown)

AARPMedicare

is UnitedHealthCare insurance but branded as AARP.

American Progressive Medigap Rate – Medigap Plans A, B, C, D, F, G, N
Colonial Penn Life Medigap Rate – Medigap Plans A, B, C, F, F*, G, K, L, M, N
Family Life Medigap Rate Chart – Medigap Plans A, B, C, D, F, G, M, N
Forethought Life Medigap Rate Chart – Medigap Plans A, C, F, G, N
Genworth Life Medigap Rate Chart – Medigap Plans A, B, C, F, F*, G, N
Gerber Life Medigap Rate Chart – Medigap Plans A, C, F, G
Horizon BCBS Medigap Rate Chart – Medigap Plans A, C, F, G, K, N
Humana Medigap Rate Chart – Medigap Plans A, B, C, F, F*, K, L
Sterling Life Medigap Rate Chart – Medigap Plans A, B, C, F, G, K, N
 United of Omaha Medigap Rate Chart – Medigap Plans A, C, F, G, M
Please contact me or the insurance company for most up to date quote and the Medigap quote for your specific age. I will also assist in comparing each of the plans.
So there you have it. A list of all the companies that sell Medigap and Medicare Supplement Plans in NJ. Call me today for a full review and comparison of all the New Jersey Medigap plans available to you.
Medicare Supplement Resources
Medicare Supplement Guide 2015
If you still aren't satisfied and want to see how to get a Free No Hassle Quote online. Check out my video below.
This video will help people in Southern New Jersey as well as up in North Jersey. Below I put a quote for Bergen county.

Here is the site I reference online. NJ SHIP You can always contact me of course at my email address here.
In my video I mention the type of quotes we provide at New Jersey Insurance plans. Here is a printout for the least expensive Medigap plan for a 65 year old male up in Bergen County NJ.
NJ Medigap Quote for Bergen County, NJ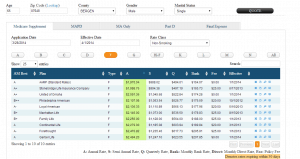 **Always check with me on updated rates! 
Get quotes and information on other NJ Medicare Supplements Here.