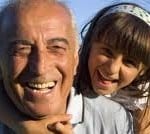 This will be a resource post to New Jersey residents that are shopping for a Medigap Plan in NJ. These plans are also referred to as Medicare Supplement plans in NJ.
If you already know what a Medigap Plan is, feel free to skip ahead to the section on the rates for Medigap Plans in New Jersey
The fastest way to get the information you need is to go ahead and send me a quote request. I usually can respond within the hour or will get to you as soon as I can. Quotes are always free and I'm happy to give you my opinion on all the Medigap plans. 
What is a Medigap policy?
A Medigap policy (also called "Medicare Supplement Insurance") is private health insurance that's designed to supplement Original Medicare. This means it helps pay some of the health care costs ("gaps") that Original Medicare doesn't cover (like copayments, coinsurance, and deductibles). If you have Original Medicare and a Medigap policy, Medicare will pay its share of the Medicare approved amounts for covered health care costs. Then your Medigap policy pays its share. A Medigap policy is different from a Medicare Advantage Plan (like an HMO or PPO) because those plans are ways to get Medicare benefits, while a Medigap policy only supplements your Original Medicare benefits. Note: Medicare doesn't pay any of the costs for you to get a Medigap policy. Every Medigap policy must follow Federal and state laws designed to protect you, and the policy must be clearly identified as "Medicare Supplement Insurance." Medigap insurance companies in most states can only sell you a "standardized" Medigap policy identified by letters A through N. Each standardized Medigap policy must offer the same basic benefits, no matter which insurance company sells it. Cost is usually the only difference between Medigap policies with the same letter sold by different insurance companies.
What do each of the different Medigap Plans in New Jersey Cover?
New Jersey Medigap Coverage Chart
See chart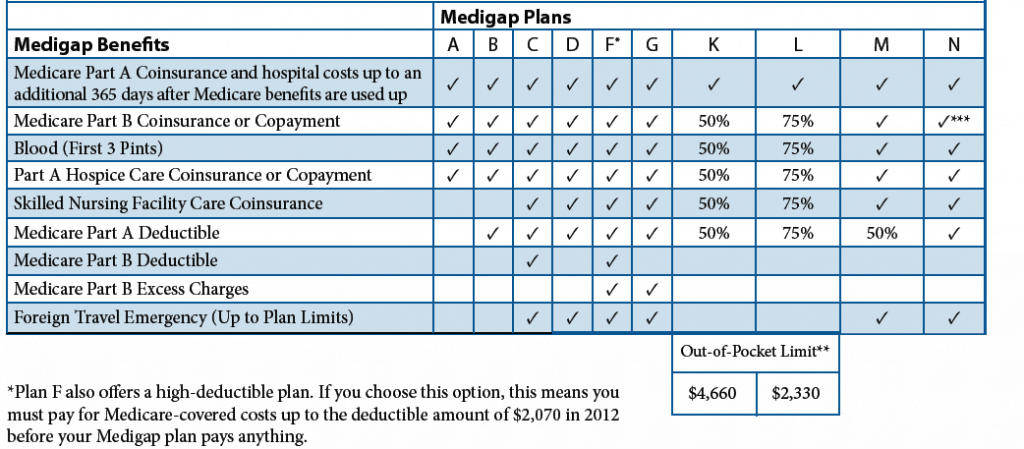 What is the best Medigap Policy to Buy in New Jersey?
Most people will purchase either Plan F, Plan G or Plan N.
Plan F: Plan F will cover all of your expenses except for prescriptions 100%. It is the easiest plan to work with because you will never have to pay a copay or worry about a bill. This means it is also the most expensive plan.
Plan G:  Plan G is identical to Plan F except you need to pay your annual Part B deductible. in 2016, the Part B deductible is $162. Once you meet that deductible, this plan will work exactly like Plan F with everything covered 100%. You can typically expect to spend about $20 less per month compared to Plan F. You will save roughly $240 and only need to pay your deductible.
Plan N: The lowest plan we usually look at is Plan N and will fall right around $40-$50 less per month than Plan F. Just like Plan G, you will need to pay your Part B deductible and then also once that is met, you will need to pay a copay of $20 at your doctor. For emergency rooms, you have a $50 copay. One last thing to note is that Plan N does not cover excess charges. Excess charges can happen if your provider does not accept Medicare assignment and it gives them the right to bill you a little extra. It is 15% above what Medicare would allow for that expense.
Which is Best?
I personally would choose Plan G, followed by Plan N and lastly Plan F.
From what I have seen for at least the five years, Plan G has much lower increases over time when compared to Plan F. You are also guaranteed to save in premium when compared to Plan F. Since plan G can only be purchased by those that are in their initial enrollment or can medically qualify, it has a healthier pool of people and thus has lower claims over time keeping the prices more stable.
Best Medicare Supplement for Couples
There are a few companies in NJ that offer discounts for spouses and even for people that are in the same household. My favorites are Aetna and Mutual of Omaha. If you are turning 65 and your spouse isn't too far behind, I would look at one of these companies first. When you add in the discounts of up to 7%, it brings the prices down and puts them at the top of the list for best pricing.
Best Medicare Supplement Company in NJ
I often get asked which company is the best and ultimately the company doesn't matter a whole lot. I would personally pick one of the top three for pricing, look at how recently their rates changed and factor in a few other options. I would not put any weight in the company name. AARP, Horizon and others are well known but they will not process your claim any differently than a no name company. Those two may still be your best choice at the time of enrolling, but I wouldn't seek out anyone in particular with the exception of the companies that have the spousal/household discounts. The great thing about Medicare Supplements is that they are very easy for consumers to use. I have never received a service call for a plan from any company we sell. They are very easy.
What insurance companies sell Medigap Plans in New Jersey? And how much do the Medigap plans in NJ cost?
Please reach out to me with the contact form on the right for up to date quotes.
2015 NJ Medigap Plans and Rates
*If older than 65 please contact me for a quote on your medicare supplement
1) NJ Medigap Female Non Tobacco Rates
2)NJ Medigap Female Tobacco Rates
3)NJ Medigap Male Non Tobacco Rates
4)NJ Medigap Male Tobacco Rates
Keep in mind that the tobacco rates are only applied if you are not in a guaranteed issued period. If you are 65 then this is likely the case.
Amerihealth Medigap plans were new for this year so I didn't have a chance to work them into the intial post. Please reach out to me for a quote. They are in the top for best prices and are the only company I know of that offer a gym reimbursement and some other great benefits. Amerihealth is a subsidiary of Independence Blue Cross out of Pennsylvania and have been offering great group and individual plans for years.
These are rates from the past.
AARP Medigap Rate –  Medigap Plans A, B, C, F, K, L, N(Please call for rates. Your rate will probably be less than shown)

AARPMedicare

is UnitedHealthCare insurance but branded as AARP.

American Progressive Medigap Rate – Medigap Plans A, B, C, D, F, G, N
Colonial Penn Life Medigap Rate – Medigap Plans A, B, C, F, F*, G, K, L, M, N
Family Life Medigap Rate Chart – Medigap Plans A, B, C, D, F, G, M, N
Forethought Life Medigap Rate Chart – Medigap Plans A, C, F, G, N
Genworth Life Medigap Rate Chart – Medigap Plans A, B, C, F, F*, G, N
Gerber Life Medigap Rate Chart – Medigap Plans A, C, F, G
Horizon BCBS Medigap Rate Chart – Medigap Plans A, C, F, G, K, N
Humana Medigap Rate Chart – Medigap Plans A, B, C, F, F*, K, L
Sterling Life Medigap Rate Chart – Medigap Plans A, B, C, F, G, K, N
 United of Omaha Medigap Rate Chart – Medigap Plans A, C, F, G, M
Please contact me or the insurance company for most up to date quote and the Medigap quote for your specific age. I will also assist in comparing each of the plans.
Medicare Supplement Frequently Asked Questions
Do I need referrals?

No. All Medigap plans are no referral

Do I need to use certain doctors and do I need to make sure my doctor takes my Medigap plan?

No. The only thing your doctor needs to know is that you have Original Medicare. That is your network. The supplement company, regardless of who it is, will pay the claim automatically if Medicare pays. If Medicare denies the claim, they will follow suit.

How much do these plans go up every year?

We usually see somewhere around 4% but Plan G has been 0% pretty often. There is a base rate that changes as you get older.

Does Medicare and Medigap cover dental?

No unfortunately not unless it is something medical in nature.

When I do need to sign up?

You can get onto a Medigap plan 3 months prior to your enrolling in Part B and 3 months after with no medical questions. You can change your plan anytime after that but you will need to go through medical underwriting.

I've had the same plan for a while and its getting expensive, can I switch plans?

Yes, just ask me for a quote and we will see what looks best. You will need to medically qualify and once you are accepted, you will cancel your old plan. Its a very easy process and most people can qualify.

What if I apply for a plan with underwriting and I get denied?

If you already have a plan, they can't cancel that based on your current medical status. Other than that, nothing will happen.

What if buy a plan in NJ and I move to another state?

Depending on the company, they will transition you to your new state's rates. Not all companies operate in every state though so you may keep the same rates.

Do these plans cover prescriptions?

Nope. Some prescriptions are covered under Part B, but you will need to purchase a Part D plan and I can help you with that.

I've had Part B for a while but was covered under a group plan through my employer or my spouses, now what?

You have 63 days to purchase a plan with no medical underwriting. The carriers restrict the plan though and you can get Plan F with no medical questions. If can move quickly, I would apply for Plan G with the best company and if you can't qualify, then do Plan F.

I thought Obamacare said an insurance company can't deny coverage based on your health?

You are correct, but these don't follow those new affordable care act guidelines.

I have Medicare Advantage now, but want a supplement?

About two to three months before January 1, we will want to try and get you qualified for a supplement plan. If you are accepted, we will have the plan start January 1st. We will then enroll you in standalone Part D plan for January 1. That new Part D enrollment will terminate your Medicare Advantage plan.

Can I pay for supplement through my social security?

Unfortunately not. Most companies will require auto pay through your checking account if you pay monthly. If that is not ok, you can pay quarterly or we will put you with a company that allows paying monthly by check ( Amerihealth ideally or AARP)

How long will it take to get my cards?

Each company is a little different but for Aetna has been the fastest and will approve you in 24-48 hours with cards issued shortly thereafter. If you need to go through underwriting, it can take a few weeks.

What else do I need?

If you don't have any money set aside for final expenses or wish to leave money to charity, let me know and we can quote a final expense life insurance policy or something that will fit your needs. There are plans that have no medical questions so its very easy to get started. You can get these plans any time but the sooner the better since the prices go up quite a bit as you get older and into your 70's or early 80's.

Why would I go with you and not some other broker or direct to the company?

I don't think I'm better than anyone out there, but I promise to give you my best and will make sure you understand the process and exactly what you are buying. My goal is to answer everything upfront so you are completely comfortable with your decision.  I know when I am buying something new, I am uneasy about the unknown. When I work with you, I take that into consideration and map the whole thing out for you so that you can put your mind at ease. My prices will be identical to other brokers and the companies direct so I try to make your buying experience as easy as possible. I do face to face meetings, online enrollments, fax, webinars, regular mail or will work with you however it fits into your schedule.
Medicare Supplement Resources
Medicare Supplement Guide 2015