New Jersey Medicare – Plan F
Monthly premium ranges for Medigap Plan F are from the $150's for a 65 year old male up to as much as $249.87. How much are you paying?
Female age 65 Cheapest Medigap Plan F in New Jersey
I just did a quick quote for a female age 65 in Absecon, NJ and these are currently the cheapest rates for Plan F. If you have someone else in the household with a supplement, these rates can go down as much as 7%. Contact me for an official quote.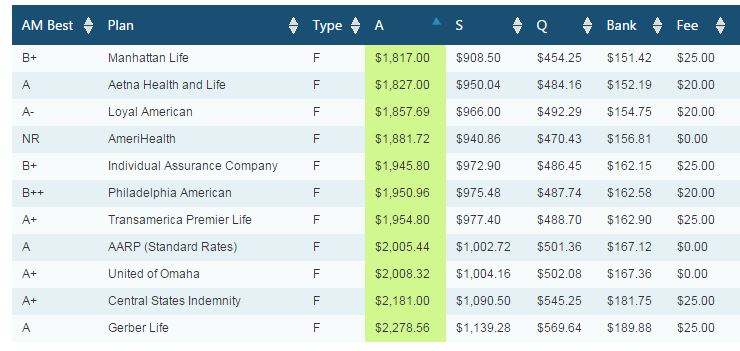 Male Age 65 Cheapest Medigap Plan F in New Jersey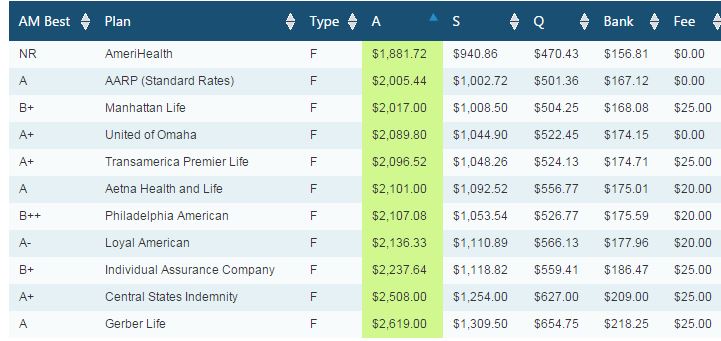 The above rates are for the South Jersey region. Depending on your zip code the rates could be more or less so you should always contact me first.
More Information About Medigap Plan F
It is the most comprehensive plan of any of the Medicare Supplements
The coverage is identical regardless of the carrier you choose.
I will repeat, that.. The coverage is identical regardless of the carrier. Do not overpay, just because you recognize the carrier name. We've sold almost all the carriers and they all work perfectly.
Some people like to purchase Plan G instead of F and I think that is also a good idea. Please contact me and I will tell  you why.
Plan F is the most popular plan sold because it is easy to use and own. Not that the others aren't as well, but with Plan F, if  you get a bill from a provider, it is wrong.. Unless Medicare denied the bill and in that case, we need to take a look.
You can change your plan at any time if  you see something cheaper. All you need to do is go through underwriting with some simple medical questions. If you don't get accepted, oh well. Companies can't terminate your coverage unless you fail to pay the premiums. Nothing ventured, nothing gained!
Any other questions, contact me. I usually email back within the hour.