This will be a quick guide to get the best dental insurance at an affordable price. You can do it all in about 5 minutes!
This will cover dental insurance for seniors and the best indivdual insurance for individuals. I'll also show you how to package your health and dental coverage and include vision coverage too if you need it.
Five Minute Guide to provide:
Best Dental Insurance For Individuals
Dental Plans for Seniors
Affordable Dental Insurance
Or anyone else that needs dental insurance
If you fit the above criteria, here is the plan I recommend.
Horizon Individual Dental for New Jersey Residents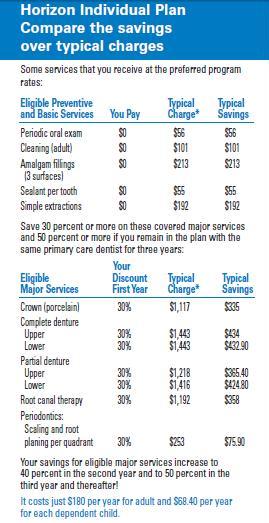 Full Horizon BCBS Summary Here: Horizon Individual Dental
How much is the dental insurance?
$180 per year per adult
$68.40 per year per dependent child
That comes to about $15 per month for an adult.
Dental Coverage Details
12 month contract – you pay for the full year upfront
You must select a primary cary dentist from the list – Horizon Provider Directory
Preventive and Basic Care is covered 100%
Major Services are covered with a 30% discount in year one
Major Discount changes to 40% in year two and 50% in year three
Very affordable and one of the few plans available to New Jersey residents to purchase as an individual
 Look Good? Get the Dental Coverage Started in Five Minutes
Download the Individual Dental Kit – this is a fillable pdf – Keep this open.
Look up a primary care dentist and write down the code or put it directly into the kit you just downloaded – Horizon Directory – use the advanced search options to select "Horizon Individual Dental" from the plan options. This will only search dentists accepting this plan.
Finish filling in the rest of the applicatoin that is in the kit.
Print sign and mail.
That's it. If you mail it in before the 15th, the coverage will start on the 1st of th next month. If after the 15th, it will start the following month.
Package Health and Dental Coverage
If you are also needing individual health coverage,  we can take care of that too.
Your options for individual health:
Need Vision Coverage Too?
Go direct through VSP Insurance and purchase an individual vision plan. These are a great deal and just as easy as setting up the dental.