Cheapest Medicare Supplement Plan G  in NJ
Medicare Plan G is my number one choice for a Medigap Plan in NJ. We sell the most of the Medigap Plan F but that is because a lot of people feel most at ease with that plan.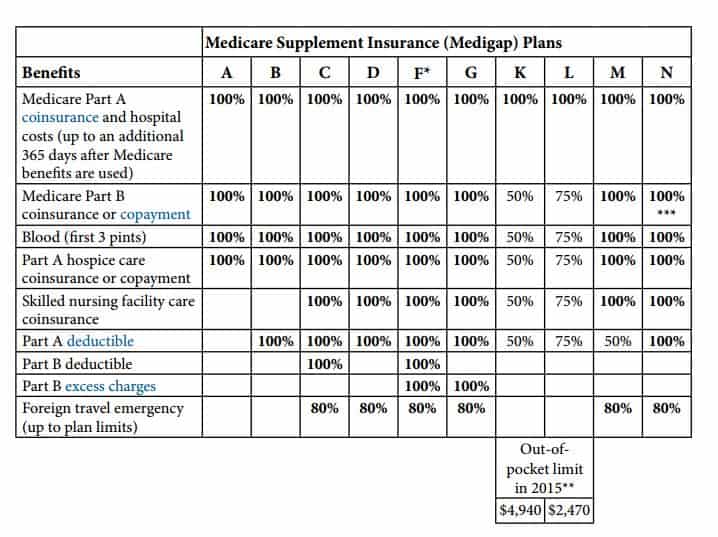 Medicare Supplement Plan G Benefits
As you can see in the chart above, Plan G is identical to Plan F except that you have to pay your $162 Part B deductible.  After that, everything is covered 100%.
Plan G Rates for Female Age 65 Absecon, NJ 08201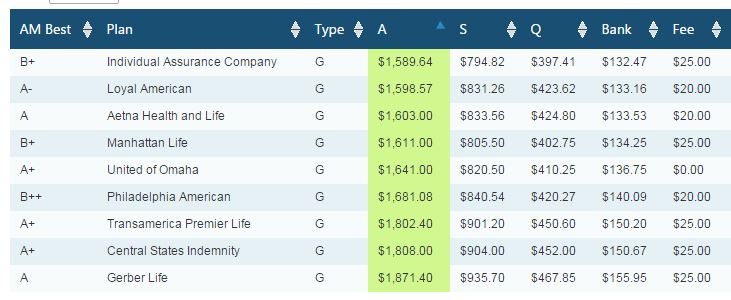 Plan G Rates for Male Age 65 Absecon, NJ 08201

Like all of the supplement plans, Plan G is portable so you can take it with you throughout the country. Also since Plan G picks up excess charges, there is no worry about your physician accepting Medicare assignment. In addition, Plan G also has some limited Foreign Travel Emergency Benefits.
Medicare Supplement Plan G vs Plan F
Many people buy Plan F thinking it is the best option. In many ways it is but Plan G is usually the best buy when comparing the two. As long as the annual premium for Plan G is at least $140 less than the cheapest Plan F, I would buy G every time.
Another thing to consider is that there is a lot of adverse selection in Plan F. That plan tends to draw in people that have higher claims on average so the pool of individuals will tend to have higher rate increases over time. You can potentially sidestep some of that adverse selection by taking Plan G instead.
Medicare Supplement Plan G Drawbacks
Since Plan G is one of the best options, it is also the second most expensive. Before purchasing this plan you must be prepared to pay increasing prices as you get older. These plans are medically underwritten when you are out of your guaranteed issue period so there is the possibility that you won't qualify for other coverage later if you find you can't afford this plan.
If you are coming from a group plan and you are offered guaranteed issue rights, Part G isn't part of that offer. You can only get Plan F. My suggestion to most people, is to apply for Plan G right away and go through medical underwriting. If you qualify, you are all set, but if you can't then you still have time to purchase F before your guarantee period expires.
 Comparing Plan G to Plan N
When I run quotes for Medicare beneficiaries, I will usually also show Plan N to compare everything out. Plan N will be a bit cheaper than Plan G so is a good option but it does have some notable differences. Just like G, you need to pay your upfront Part B deductible, but then instead of your physician visits being covered 100%, you will pay a $20 copay. At the urgent care or emergency room, you will pay $50.
The last notable difference is that Plan N, you are not covered for excess charges. Excess charges don't happen very often but if your provider doesn't accept Medicare assignment, they are within their right to charge an additional 15% over the Medicare allowable amount. Again this doesn't come up very often, but it does from time to time.
If you don't mind the possibility of the excess charges or the copays here and there, I would also take a long look at Plan N. Either of the two plans will serve you well over time.
Insurance Companies selling Plan G in New Jersey
Here is my list as of 3/1/2016 from the New Jersey State Health Insurance Plan site. (NJ SHIP)
Aetna
American Progressive
Americo
Bankers Life
CSI
Colonial Penn
Combined
Genworth
Gerber Life
Horizon BCBS
IAC
Loyal American
Manhattan Life
Shenandoah Life
Sterling Life
United of Omaha
Of the list above, some of my favorites are Aetna and United of Omaha because they are very fast to issue policies, have some of the best rates, offer spousal discounts and are very easy to work with.
If you are interested in Plan G, I would love the opportunity to earn your business. Please contact me for your:
Read more about NJ Medicare Supplement Plans