Medicare Supplement Quotes should be easy to get, but sometimes your head can spin with all of the different options. New Jersey has eleven companies that sell Medicare Supplements so I'd like to share some tips on getting  the best plan.
Evaluate your options. The State of NJ has put together some nice resources and I also have put together some of my own. You can read about Medicare Supplement Plan F,  and Medicare Supplement Plan G here.
The plans I think you should focus your time on are Medigap Plan F, Medigap Plan G, Medigap Plan N and Medigap Plan F High Deductible.  Take a look at the chart below to get a feel for what each plan will cover.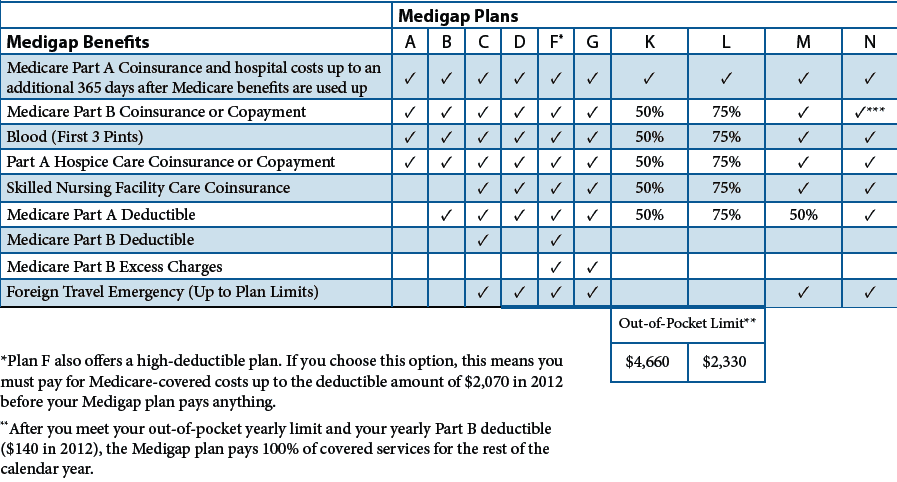 Medicare Supplement Quotes – Step 2 – Get Quotes
Now that you have a feel for what plan you may want to consider, it is time to start getting some quotes.
You can get Medicare Supplement Quotes from me by using my online request or calling me directly at Glenn Insurance at 609-641-3000.
You can also contact the insurance companies directly or use the local insurance agent that you are comfortable with.
If you are doing most of your research online, try to only send your information to insurance agencies and not "quote farms". Some sites will take your contact information and sell it to many agents so that they may contact you.  (My site does not and will never do this).
Medicare Supplement Quotes – Step 3 – Analyze and Purchase
You have now done your review in step 1, gotten your Medicare Supplement Quotes in step 2 and now are ready to buy.
I like to compare each of the plans by making a spreadsheet and compare the prices between all of the plans and also take into consideration the company I am dealing with.
Some things to consider before buying:
What is the reputation of the company I am looking at?
Does my local agent work with them? If that matters to you.
Who will I turn to for help if and when needed? Company directly or my agent?
Do they offer discounts for spouses who purchase together or for other reasons?
Do they have a history of high rate increases?
Do they use medical underwriting and will I be able to get a policy approved?
If I am choosing Plan F or Plan G, will I be able to afford the premiums in the future?
Go through your review and buy your plan. If you have followed the three steps, you will have made a sold choice for your Medicare Supplement Plan.
I would love the opportunity to earn your business.
Please contact me for your Medicare Supplement Quote.  609-641-3000